IMPORTANT UPDATE: WE ARE NOW OPEN

Currently only allowing 5 students in a group, with one group at a time. Please be sure to ring the office for more information, or visit our FaceBook site for more information.
Horse riding in Nottingham is just one of the services we provide to our valued visitors, and as a horse riding school our aim is the sheer pleasure of riding. We have a good friendly atmosphere which allows people to relax and feel welcome.
Checkout our most popular horses & Ponies below, and then keep scrolling down on this page for information on Riding Skills, Booking Process, and Prices. If you want to see our full range of ponies, then click
here
.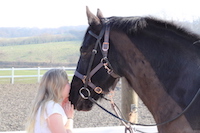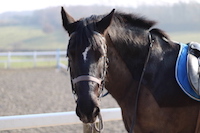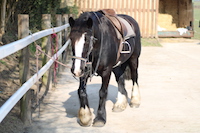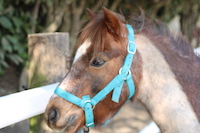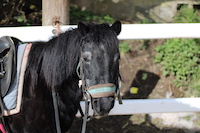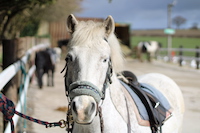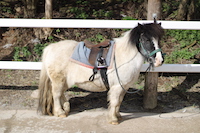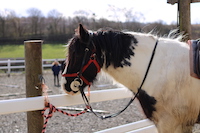 Manege and Country Hacks
We have two all-weather manège's
which are floodlit for all year round tuition. Together with our friendly instructors we offer everything from group lessons to private lessons, suitable for the beginner through to the more experienced rider.
And for the adventurous, we are on the door step of an amazing and relaxing countryside; offering different types of horse riding hacks for the multiple levels of riders.
Our instructors are highly experienced and very friendly and are also horse enthusiasts themselves, which in turn gives us a strong reputation for getting fantastic results and many repeat visitors.
Riding Levels

Riding has its own language, as has many sports. It is important to learn the phrases given by the instructors, so in group lessons as you progress, everyone should understand what they are supposed to do and don't do. Not to worry though, it will all become clear as you start to learn and relax on the horse. A relaxed rider learns a lot quicker; and we cater for the complete beginner of any age, up to the more experienced showjumping level.

Please call the office for more information on the best way forward for you.
The Beginner
The beginner rider will start off slowly, learning the basics of steering, walking, trotting and cantering. The rider will improve position and balance at all three speeds.

The Novice
The novice rider will be capable and confident of the above and will be starting to learn to jump small fences, work without stirrups and be able to ride simple school movements all on their own


The Intermediate
The Intermediate rider will start to learn to jump a course of small fences, learn to understand the balance of a horse, and be able to ride more complex and difficult school movements.

The Experienced
Will be able to ride at all speeds safely, complete a course of jumps at a competition level, understand in detail about the horse and how to obtain and maintain good results.

New Rider Registration

Horses can be unpredictable, riding carries risks. On arrival riders will be asked to complete a "Rider Registration Form" to confirm their level of riding ability and experience and to acknowledge the terms and conditions of the riding school. This will also help us to select the right horse for the rider. The form is available here to download for you to fill in in order save time at the stables.

What to Wear

Riding hats must be worn at all times by the rider (loan hats available for £1)
Boots/Shoes or Wellingtons with a small heel must be worn to ride.
Full length trousers and tops that cover arms and shoulders.
Gloves and Coat (when cold & when required, must be buttoned or zipped)
Waterproof clothing must be suitable for riding and have been checked by a member of staff

What Not to Wear

Trainers, Mules, Sandals, or boots with high heels. Skirts, Shirts, Vest Tops or Crop Tops. And even though riding is amazing when the sun is out; please do not come wearing beachwear!

Age and Restrictions

We do not discriminate against anyone here at Broadview, so please call us to discuss any specific requirements or concerns, However, for insurance purposes; all riders must be over the age of 4 years.
Weekend Lessons
All weekend classes are for a one hour period, which includes a 10 minute turnaround for mounting and dismounting.
Group Lesson based on skill level - £17
Country Hacking Ride- £17
Mid-Week Lessons
Monday to Friday we offer private and semi-private lessons. Each lesson runs for 45 minutes.
Private lesson - £27
Semi-Private lesson - £22
Bookings and Cancellations
Bookings
We advise that all lessons are booked in advance to ensure you aren't disappointed. Please book online (2% additional cost), over the phone for a quick and precise booking, or even pop in to speak to one of our team. You have a better chance of securing your preferred horse/pony and time slot if you book at least 1 week in advance.
**Please make booking direct with us first before paying online**

Cancellations
We require 24 hours notice for any cancellations. A full booking fee will be charged if any lesson is cancelled within 24 hours. Regretfully, inclement weather will not be accepted as a reason for cancelling, if in doubt; please call the office for an update.

Lessons
For each lesson you are loaning a school riding hat for £1, please ensure you arrive 10 minutes early for fitting.
CONTACT US :)

Address:

Broadview Riding School, Park Rd, Bestwood Village, Notts. NG6 8UG


Telephone:

01159752309


Opening Hours:

Monday - Friday: 09:00 to 21:00
Saturday - Sunday: 09:00 to 17:00