Events, School, and Stable Information
Here you will find information on all Gymkhana events, Own a Pony Days, Birthday Parties, Charity events, and more....

All information related to the riding school, stable owners, and potential upcoming loan ponies/horses can be found here.

If you don't see anything you are looking for, them please contact us.
Keep tuned for an update on Events…..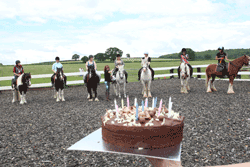 Party Party Party
We run birthday parties for all ages from small children to the young at heart. a minimum of 6 attendees per party is required (no age limit).
Special Offer:
Book for 8 riders and get any additional riders at half price
All riding levels from the complete beginner to the more experienced can be catered for.
When selecting your party, you can choose from one of the following types of party themes:
The Party Lesson

A Lesson in horse riding whilst you have fun for the hour.
The Party Games
A complete lesson of playing games into teams, a way of seeing which team can win each task and get the prizes
The Party Hack
A nice relaxing hack into the countryside with a few twists; seeing as it is a party after all!
We also have a room for hire after your ride to celebrate your childs birthday. This can be accompanied by food and drink supplied from our caterers, or you can bring your own.
For more information, please contact a member of our team.